NGV ANNOUNCES LINE-UP FOR FRIDAY NIGHTS WITH VINCENT VAN GOGH
NGV International | 28 April – 8 July 2017 | Admission fees apply
Once again Consume has collaborated with the NGV for the upoming FRIDAY NIGHTS with VINCENT VAN GOGH.
A special aspect of this series has seen The Drones singer and guitarist Gareth Liddiard, one of the leading Australian acts in the line-up, record a cover of the Jonathan Richman song Vincent van Gogh in celebration of the winter exhibition, which can be streamed through the NGV website. Link here (please scroll down to lower part of webpage)
Gareth Liddiard's Cocktail Favourites play Vincent Van Gogh by Jonathan Richman, for Van Gogh and the Seasons at the NGV: http://www.ngv.vic.gov.au/exhibition/van-gogh-and-the-seasons/
Writer and singer of retro-tinged, cinematic blues melodies Gemma Ray (UK), and poetic New York folk-rocker and acclaimed guitarist Steve Gunn are two of the musical highlights in the next season of NGV Friday Nights. The late-night art and music series runs alongside the Melbourne Winter Masterpieces exhibition Van Gogh and the Seasons from 28 April to 8 July 2017 at NGV International.
Tony Ellwood, Director, NGV, said, 'The Friday Nights series continues to be one of the most popular events on the NGV calendar, giving visitors the opportunity to experience the gallery after hours, while introducing some outstanding musicians to the unique performance space that is the Great Hall.'
Also on the line-up for NGV Friday Nights are: Youth Group singer Toby Martin, playing with a 5-piece band featuring Arabic and Vietnamese instruments; acclaimed singer-songwriter Emma Russack; and breakout star from Arnhem Land, Gawurra.
'Emotion punk' 3-piece Two Steps on the Water will take to the Great Hall stage in June, as well as 1990s rockers The Fauves; Oregon-based ambient musician Liz Harris playing as Grouper; Australian alternative music legends The Blackeyed Susans; and prolific indie songwriter and performer Ben Salter, with band. 
The Panics who are  recognised for their poetic celebrations of the Australian landscape will  play a special rare performance on Saturday night of the closing weekend of Van Gogh and the Seasons in July.
NGV Friday Nights includes after-hours entry to the Melbourne Winter Masterpieces exhibition Van Gogh and the Seasons, local DJ's, art talks, and access to food and bars.
NGV Friday Nights full line-up:
28 April – Gemma Ray (UK)
5 May – Toby Martin (Youth Group)
12 May – Gareth Liddiard
19 May – Emma Russack
26 May – Gawurra
2 June – Two Steps on the Water
9 June – The Fauves
16 June – Grouper (US)
23 June – The Blackeyed Susans
30 June – Ben Salter Band
7 July – Steve Gunn (US)
PLUS SPECIAL CLOSING NIGHT: Saturday 8 July – The Panics
NGV Friday Nights
NGV International
28 April – 8 July 2017
6pm – 10pm, headline act at 8.30pm
Bookings and information: www.ngv.vic.gov.au
NGV Friday Nights tickets include exhibition entry to Van Gogh and the Seasons
AUDIO Spotify playlist: NGV Friday Nights | Van Gogh and the Seasons: https://open.spotify.com/user/ngvmedia/playlist/3dt4r7ux1I8H1SlshyWYd7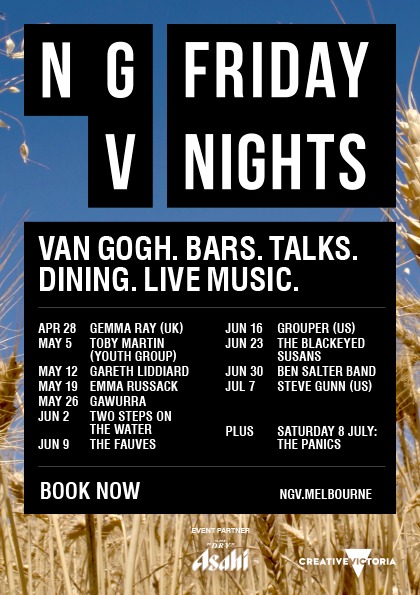 APRIL 28 – GEMMA RAY (UK)
Berlin-based, British-born Gemma Ray and her band bring their unique torch song psychedelia to NGV in celebration of her latest album The Exodus Suite. Her sideways blues is cinematic and brooding, shaped by previous collaborations with members of the Bad Seeds, the late great Alan Vega of Suicide, Howe Gelb, Sparks and the Filmorchester Babelsberg among others. http://gemmaray.tv/   www.facebook.com/gemmaraymusic/
MAY 5 – TOBY MARTIN (Youth Group)
Australian singer-songwriter and former Youth Group front man Toby Martin performs songs debuted at Urban Theatre Project's 'Bankstown Live' for the Sydney Festival. Featured on his recently released album Songs From Northam Avenue, these unique songs were written in front gardens and footpaths of Bankstown, as part of an artist residency, and were recorded in collaboration with southwest Sydney musicians from various musical and cultural backgrounds.  www.tobymartin.com.au  www.facebook.com/tobymartinsolo
MAY 12 – GARETH LIDDIARD
Gareth Liddiard is one of Australia's most celebrated contemporary songwriters and the driving creative force behind The Drones. His rock and roll music straddles the line between completely outmoded anachronism and soothsayer-like vaticinations. Gareth has recently re-recorded Jonathan Richman's Vincent van Gogh song especially for the Van Gogh and the Seasons exhibition and as part of Friday Nights will be playing solo with an acoustic guitar that is exactly the same age as him.   www.thedrones.com.au  www.facebook.com/TheDrones  
MAY 19 – EMMA RUSSACK
Acclaimed Australian singer-songwriter Emma Russack is known for her sparse and minimal arrangements, poetic lyricism, as well as her sharp and sardonic wit. Emma is a truly unique and captivating live performer, stealing the hearts of audiences and critics alike.  www.spunk.com.au/artists/emma-russack/   www.facebook.com/Emma-Russack-Official
MAY 26 – GAWURRA
Melbourne-based via Arnhem Land singer-songwriter Gawurra performs at the NGV after catapulting onto the music stage nationally last year. Known for his deeply resonate voice and musical sensitivity, Gawurra's culture, beliefs and personal journey are embedded deeply in his songs, which not only tell an Indigenous story; but an Australian story.  www.facebook.com/Gawurra/  http://gawurra.com/ 
JUNE 2 – TWO STEPS ON THE WATER
Two Steps on the Water are a three-piece emotion punk band. Existing in a space between sombre folk instrumentation and intense punk energy, they write songs about singer June Jones' experience of the pains of trauma and life as a trans woman, amongst other things. Despite their numbers, the trio are able to conjure up a huge sound with vocals, violin, drums, acoustic guitar, and three part harmonies.  www.facebook.com/2sotw/   https://twostepsonthewater.bandcamp.com/
JUNE 9 – THE FAUVES
The Fauves are one of Australia's most unique bands and never fitting into any particular genre has afforded them a longevity rare in the music industry. After meeting at high school, the four friends became a regular fixture on the Melbourne live music scene and are recognised for their witty lyrics, melodic pop-rock and often satirical, evocative exploration of Australian themes.  www.thefauves.com/
JUNE 16 – GROUPER (US)
Grouper is a project by ambient musician Liz Harris of Portland, Oregon, United States. Her music is described as surreal, melancholic and ethereal with uniquely delicate, dreamy vocals. Her critically acclaimed album 'Ruins', was recorded on a sojourn to Portugal with a portable 4-track, Sony stereo mic and an upright piano. At the NGV, Liz will performs songs from her catalogue of releases thus far.  https://grouper.bandcamp.com/
JUNE 23 – THE BLACKEYED SUSANS
The Blackeyed Susans have built a reputation for their moody romanticism and op-shop stylings. Declared national treasures by Rolling Stone magazine, they have toured the world, played with the likes of Johnny Cash and Leonard Cohen and released numerous albums of occasional beauty. Boasting members of The Cruel Sea, Dirty Three, The Triffids, The Jackson Code, Augie March, The Drones and Hungry Ghosts, the group's credits read like a who's who of Australian alternative music.  blackeyedsusans.com.au/ www.facebook.com/theblackeyedsusans
JUNE 30 – BEN SALTER
Ben Salter is one of Australia's most highly regarded songwriters and performers. His eclectic, esoteric arrangements take in elements of rock, pop, jazz, folk, country and beyond, whilst maintaining a coherence and inimitable melodic style. Possessed of one of the most distinctive voices in the country, Salter continues to perform relentlessly across both Australia and the world.   facebook.com/bensaltermusic   www.bensalter.com.au   https://bensaltermusic.bandcamp.com
JULY 7 – STEVE GUNN (US)
Steve Gunn's music has always embraced expanse and movement, springing from the simple and profound relationship between humans and their environment. At NGV, Steve Gunn performs songs from Eyes On The Lines, his most explicit ode to the blissful uncertainty of adventure, as he tells vibrant and evocative tales through a series of both imagined and real-life characters and moments. www.steve-gunn.com  www.facebook.com/therealstevegunn
JULY 8 – closing night THE PANICS
Music critics and fans often say the same thing about The Panics: listening to their songs is like immersing yourself in the soundtrack to your own life. Underneath the elegant pop-rock tracks are modern hymns for a generation, anthems of rash joy and quiet heartbreak. The Panics formed in the hills of Perth and their poetic celebrations of the Australian landscape have offered some of the finest music to emerge in recent times from one of Australia's most important bands.  www.thepanics.com.au   https://web.facebook.com/thepanics