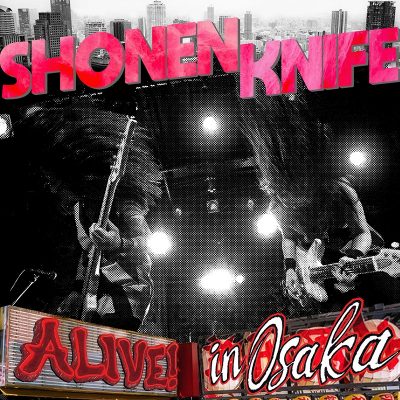 SHONEN KNIFE – ALIVE! IN OSAKA
Out this coming Easter weekend… on digital and CD.
Japan's legendary punk pop princesses – SHONEN KNIFE – are releasing ALIVE! In Osaka via VALVE in Australia & NZ on April 1 2017. 
Featuring classics such as "Twist Barbie", "Bear Up Bison" and "Sushi Bar Song", newer tracks like "Jump Into The New World" and "Rock N Roll Tee Shirt" as well as a cover of Nick Lowe's classic "Cruel to be Kind", the band is captured in their true element, entertaining fans in the city that made them who they are today.
"It is our first live album after 12 years. ALIVE! in Osaka was recorded at the same club called "Fandango" with the last one Live in Osaka. The drummer was changed from the last time. You can try to compare the new one with the last one. It might be interesting. The show was held in our hometown and of course everybody there was so excited. I hope you can get happy, fun and cheerful with this album."
Shonen Knife has enjoyed sharing their ever-evolving career for decades, touring the world with rock royalty such as Nirvana, Sonic Youth, BMX Bandits and Redd Kross. After 36 years, the band still receives rave reviews from outlets like Noisey who said, "Japan's Shonen Knife certainly aren't acting their age… full of shimmering girl group melodies and immediately hummable guitar lines."
"Shonen Knife to remain one of the only bands around that is able to fully encompass both the cuteness and keen-ness after which they were named." – Stereogum
"After 35 years, Shonen Knife is still firing on all punk-andgarage-infused six cylinders on the girl trio's new Adventure album." – MAGNET Magazine
VIEW VIDEO HERE of Shonen Knife – Buttercup (ALIVE! in Osaka)
Originally created for Cartoon Network's Powerpuff Girls show, and used to air daily before the show, alongside a song by Apples In Stereo. "I love The Powerpuff Girls a lot," explains frontwoman Naoko Yamano. "It is a story about three girls which is just like Shonen Knife. When I got an offer from Cartoon Network to make a theme song for Buttercup, I was so happy because she is my favorite character. I made that song with fun. I'm always enjoying to play that song at our show. Our audience got so cheerful with that song."
SHONEN KNIFE – ALIVE! IN OSAKA
recorded live at Juso Fandango in Osaka, Japan December of 2017
1. Pop Tune
2. Super Group
3. バナナチップス (Banana Chips)
4. Twist Barbie
5. がんばれバイソン (Bear Up Bison)
6. Bad Luck Song
7. Green Tangerine
8. Move On
9. Jump Into The New World
10. Rock'n'roll T-Shirt
11. Cruel To Be Kind
12. All You Can Eat
13. すしバーソング (Sushi Bar Song)
14. Wasabi
15. Ramen Rock
16. ケットにのって (Riding on the Rocket)
17. Buttercup (I'm A Super Girl)
18. Pyramid Power
19. アントニオバカ貝 (Antonio Baka Guy)
20. It's A New Find
21. BBQ Party
VALVE online store: www.valverecords.com.au/shop
www.shonenknife.net