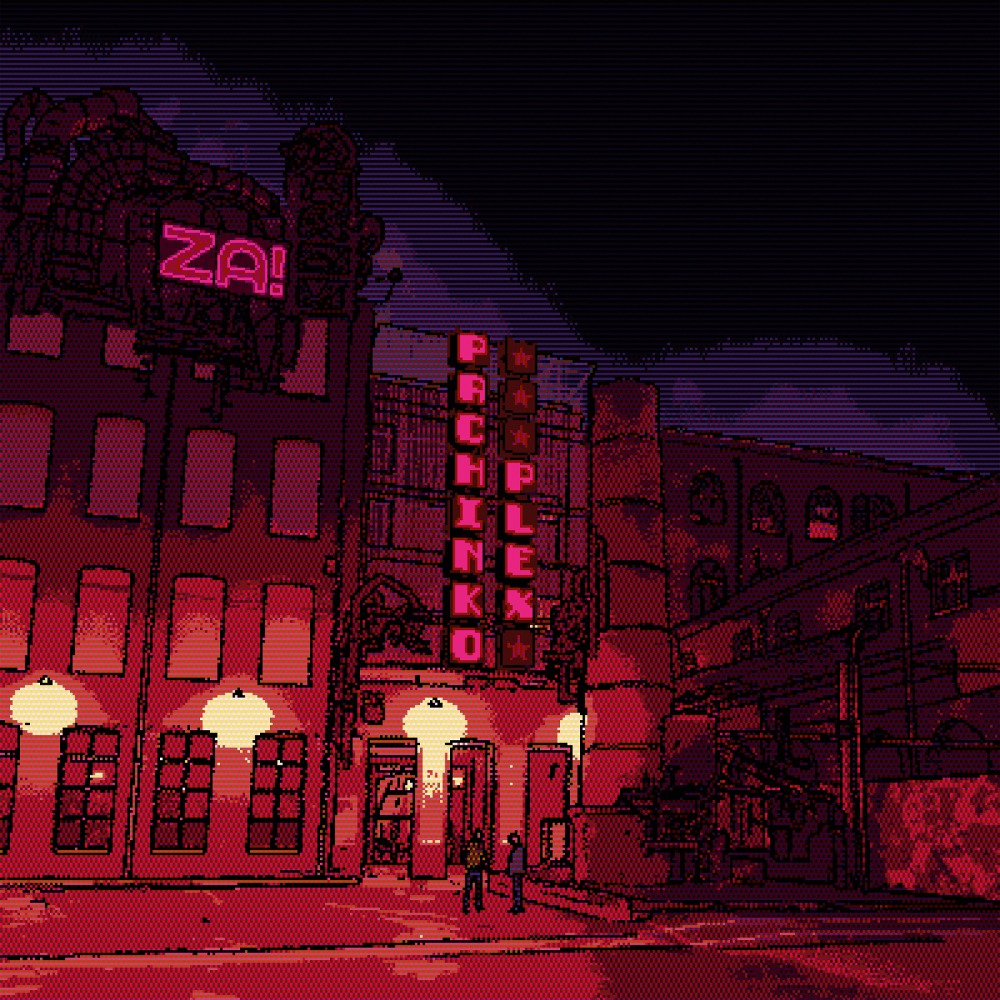 ZA! gives us PACHINKO PLEX
Barcelona's duopoly of musicomplex come forth with their great new album out now!
"On their lush new record "Pachinko Plex", ZA! has created a storybook of polyrhythm that explores sonic structures without becoming overtly clinical. They have eschewed guitars and amps and are relying primarily on mallets, horns, and synths, to create a broadly warm and dynamic record. Both Intensely rhythmic and conversely melodic, there is a dialogue going on throughout the record that I think hints at the mysteries they are grappling with. The numerology inherent in the complicated relationships of tone and rhythm here betray a fascination with random connections and responses, and also in the passion of trying to relate complicated thoughts without words. It is a joyful sound, celebrating the mysterious.
There are global influences, I have been told from their time teaching in Mozambique and Swaziland, and from their close study of such Japanese noise bands as the Boredoms and the in the general idea of the Pachinko machines referenced throughout. And there are hints of interstellar influences, as in when they insert Carl Sagans words on "Avances 1 2 3". There is a lovely Jazz piece called Solo Chezz, that would be at home on a Brian Blade record. It is meant to be taken as a full record and each piece unfolds on top of one another until the suite of chaos, field recordings, melody, percussion and horns create a big portrait of two musicians turned scientists in a laboratory. In control of their own skills and wills and trying their best to make sense out of the chaos." – Brendan Canty (Fugazi, Rites of Spring, Messthetics, among many others).
"Pachinko Plex" is a step further on ZA!'s DIY experimental spirit: their 6th album has been entirely recorded by themselves on their practice space, and it's self-released by their label Gandula, in collaboration with seven labels from different points of the world: A Tant Rêver du Roi (France), Valve (Australia), Moorworks (Japan), Fun in The Church (Germany), Lovers & Lollypops (Portugal), Keroxen (Canary Islands) and The Audacious Art Experiment (UK).    
ZA! – PACHINKO PLEX out now Australia/NZ via Valve/MGM
https://consumevalve.bandcamp.com/album/za-pachinko-plex
AVANCES 1 2 3 – https://www.facebook.com/putosza/videos/2183796988305038/
PANTOMIMA PLEX : ZA!, EL MICRODOCUMENTAL https://www.facebook.com/putosza/videos/2162006553817415/
ZA! are Pau Rodríguez & Edi Pou
ZA! is a band from Barcelona composed by 2 people and many instruments. Their music combines African beats, noise, live electronics, thick distortions, vocal loops, free jazz, Balinese polyryhtms, math rock, Dadaism, drones and a high percentage of the result left to complete on stage, every night.
ZA! have played about 500 shows including acts in international festivals (South by South West, Primavera Sound, Sonar, Eurosonic, Trans Musicales, Fusion Fest, Canadian Music Week, Bushfire, Sydney Festival…) and tours in USA, UK, Japan, Australia, Mozambique, Swaziland, Brazil, Russia, Portugal, Germany, Holland, Belgium, Finland, Slovakia, Poland, France, Switzerland, Denmark, Austria, Italy and Spain.
ZA! love sharing stage with other musicians and creating new music altogether. They are founders of the improvisation collective El Caballo Ganador and they have created and participated in various dance & theater pieces. The duet also teaches conducted improvisation workshops for professional musicians, amateurs and kids. Their workshops, often finishing with a collective show, have taken place in many cities around the World: Barcelona, Berlin, Melbourne, Maputo, Tenerife, Açores, etc.
ZA! love the Do It Yourself spirit, but they love the Do It Together spirit even more: they self-release their records and they book their own shows through their own label Gandula, in association with many small independent labels and booking agencies around the Globe.
MACUMBA O MUERTE (2009) won the Independent Music Awards in Spain as best urban music album and was considered by Rockdelux magazine as one of the best Spanish albums of the first decade of the XXIst Century.
WANANANAI (2013) was elected Album of the Year by Rockdelux Magazine, and also the best live act of 2013. It also received the Altaveu award from Festival Altaveu.
LOLOISMO (2015) was premiered by The Wire magazine in the UK. Elected Album of the Year by Spanish ABC newspaper. The same year, ZA! were awarded with the City of Barcelona by the city council for their pedagogical task in music and for their DIY-collaborative organization.
PACHINKO PLEX (2018) is ZA!'s new album, a total change of instruments and sonority, a step further into experimentation, electronics, odd beats and calentismo. It is also a new challenge in their Do It Together spirit, self-releasing the album and co-releasing it with 7 independent labels from 7 different countries.